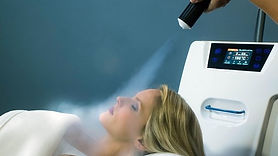 Cryo-Slimming Sessions with Bel0 Cryotherapy
Cryo-Slimming, also known as "fat freezing," is a noninvasive treatment that cools body fat to break down fat cells. It is effective to eliminate small pockets of unwanted fat in localized areas like the abdominals, legs, hips, thighs or arms. The session is around 15-20mins and has no down time.
How does it work?
When fat cells (adipose tissue) are cooled to a certain temperature, they start to die in a natural and controlled manner. Once the fat cells have broken down, they are then flushed out of the body as waste or processed through the lymphatic system.
Bel0 Cryotherapy is at The Fit Club by appointment only on Wednesdays, 730-9pm. For best results, Bel0 recommends starting with two back-to-back weekly sessions.
Click below for more info or to book your appointment!